BOOST YOUR BRAND WITH CELL PHONE CHARGING STATIONS
Event Recall gives your company the technological edge by offering a service everyone needs: a place to charge their cell phones. Optional video turns the charging stations into a powerful information center or advertising vehicle.
Our line of Cell Phone Charging Stations include:
Secure locker charging stations
Standing charging stations with or without video
Counter top charging stations with or with out video
Portable chargers with mobile power packs
Custom charging tables and furniture
At events, a charged cell phone means more social media shares and photos. A charged cell phone in a hospital waiting room keeps people connected during critical times. Trade show exhibitors will pull in more show traffic and show organizers can boost sponsorship revenue.
Our made in the U.S.A. Cell Phone Charging Stations are ideal for any business, venue or event:
Trade Shows
Universities & Colleges
Music & Outdoor Festivals
Casinos
Hotels & Resorts
Shopping Centers
Gyms & Fitness Centers
Hospitals & Clinics
Airports
Train Stations
Sports Arenas
Amusement Parks
Car Dealerships
Restaurants & Bars
Nightclubs & Lounges
Weddings
FULL SIZE CHARGING STATIONS WITH VIDEO
The Most Advanced Cell Phone Charging Station

The Full Size Charging Station with Video charging station boasts a 20" HD screen, audio with external volume controls , and dimmable LEDs illuminating its 12 charging tips. We can pre-load this charging station with your video content or existing media management software, but in case you need to make last-minute changes it is WiFi enabled and has a hidden USB port. Add custom graphics wrap to complement your branding or décor.
Many Configurations Available
The Charging Station comes in several configurations to fit any space: Standing, Tabletop, Wall-mounted, and Standing or Tabletop Dual (with two screens and 24 charging tips). If you are investing in a unit for multiple events, the Single Conversion package comes with all of the pieces you need for 3 different configurations to suit your changing needs. Interested in two units. The Dual Conversion package allows you to choose between single and dual options whenever it works best.
SECURE LOCKER CHARGING STATIONS WITH VIDEO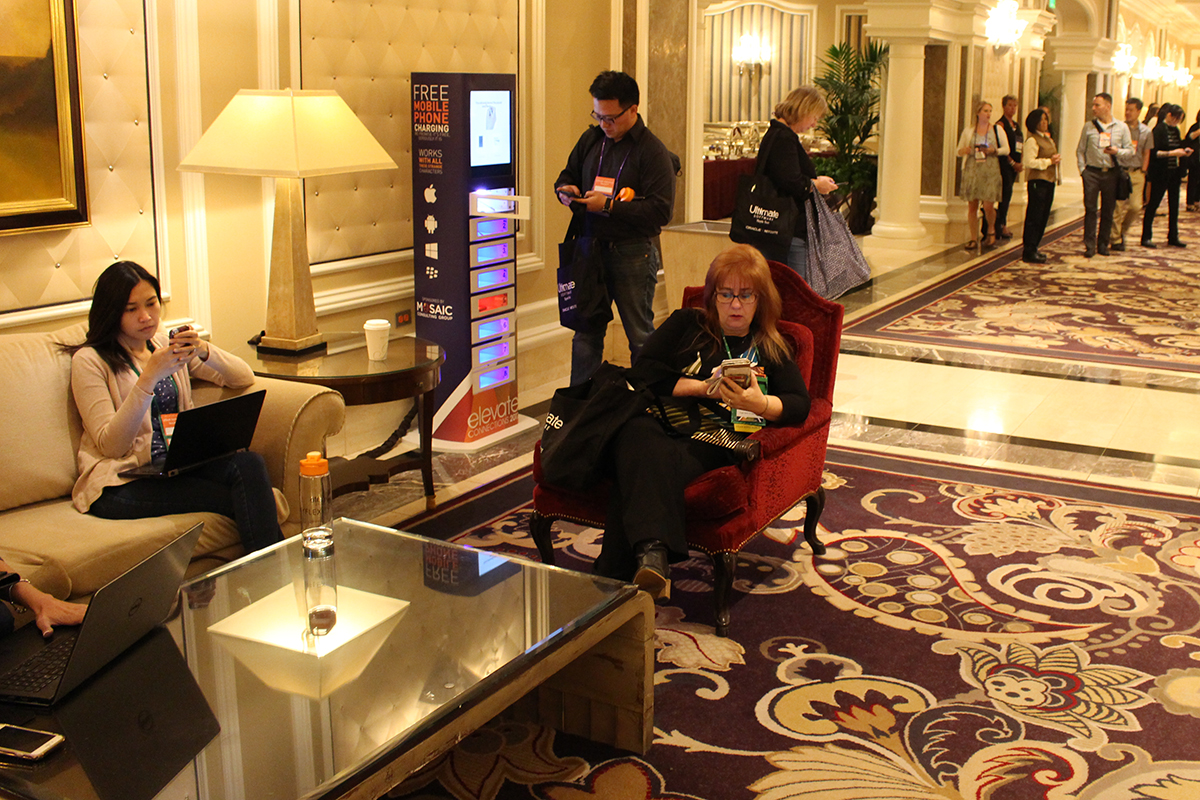 Easy-To-Use Self Service

We have the most advanced Secure Locker Charging Stations in the United States. 8-secure chambers come ready with 3 cables per chamber charging up to 2.7a each. Apple iPhone (legacy & new lightning compatible), Samsung, LG, Nokia, Sony Ericsson, Android, Blackberry, HTC, Motorola and more with our dedicated 30-pin, Lightning, Micro USB and USB C charging cables!
Custom Branding

In order to maximize branding, the Secure Locker offers a custom graphic wrap with your own artwork, branding, logos and colors. Our simple templates allow you to fully customize the look and feel of your custom charging station so that you project exactly the message you want and get all the attention you need. Send us your design or let one of our designers put their creative skills to work for you. The 19 inch touchscreen can be custom branded with images or videos of your company or sponsor. This along with other customization options such as decals or full wraps allow the charging kiosks to blend into any setting and build buzz for brands.
Fast Charge & Remote Access
Each cell phone charging locker is equipped with the latest charging technology and supports charging for 98% of smartphones on the current market. Fast charging is available for compatible phones and the lockers can fit most tablets and smaller laptops. The phone charging kiosk can be connected to the internet (not required for functionality) to enable remote access which makes it easy to check up on usage, open up lockers, and change the custom branding on the touchscreen.
Energy Efficiency
The Secure Locker is designed with the environment in mind. Each unit draws less than 250 watts, which is equivalent to a desktop computer. When the kiosk is not actively in use, power save technology ensures higher efficiency.
TABLETOP CHARGING STATIONS WITH VIDEO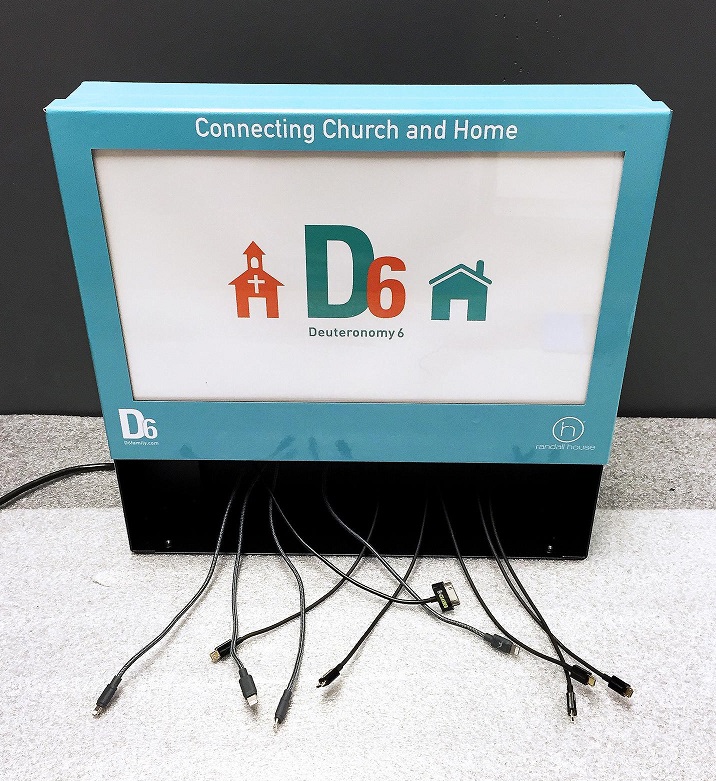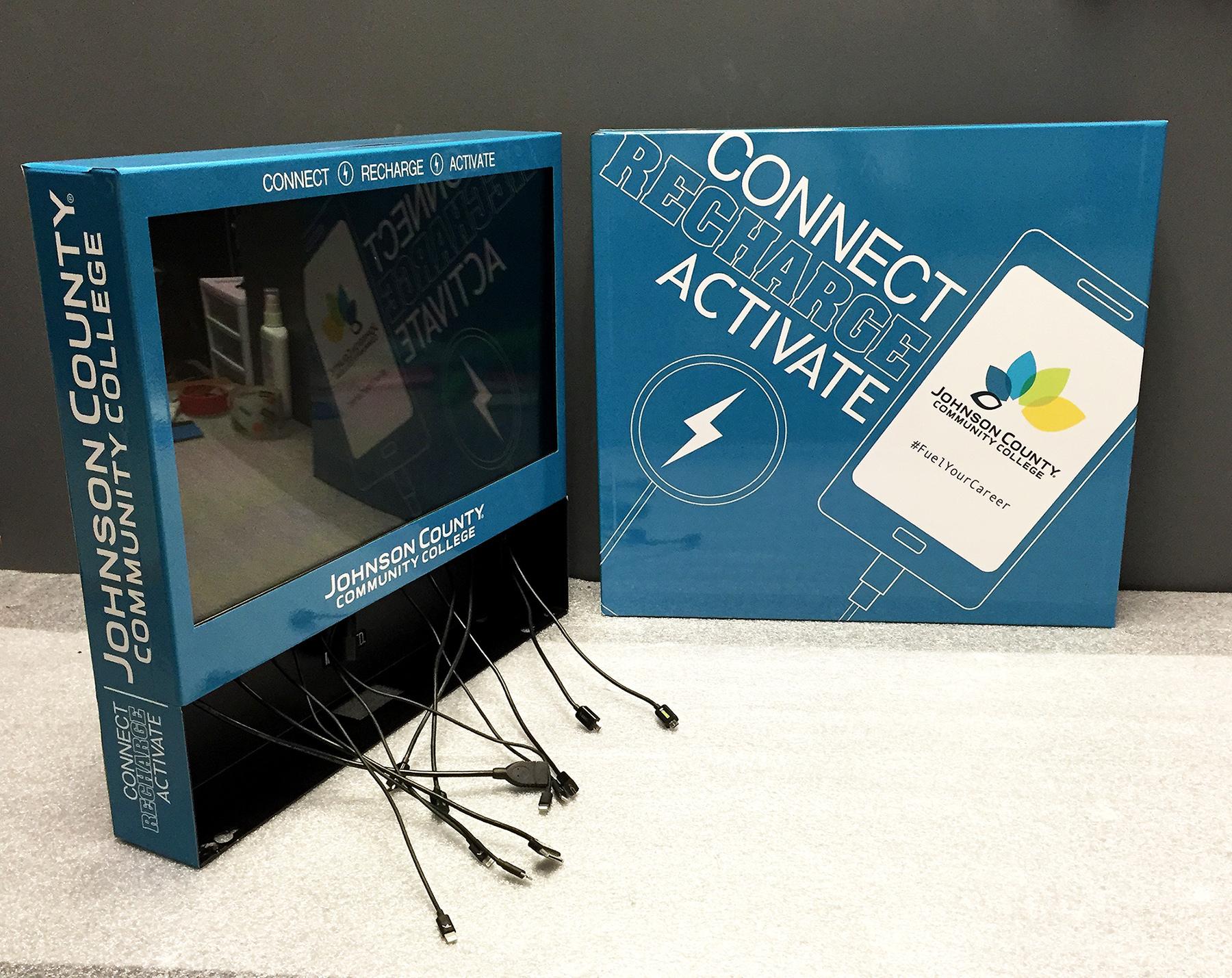 High impact, easy to use
Add a tabletop charging station to a show-provided conference table, an existing counter or end table. A perfect branding or sponsorship tool for spaces with minimum areas.
Integrate into trade show exhibit designs. Add a cell phone charger to pull more booth traffic, more prospects and get better trade show ROI.
We make it easy to use. Tabletop or countertop cell phone chargers come to you already wrapped with graphics and video content pre-loaded. All you have to do is plug it in and enjoy meeting new prospects.
FULL SIZE AND TABLETOP CHARGING STATIONS WITHOUT VIDEO
Affordable, Brandable, Powerful
Take advantage of top-of-the-line charging technology with our counter-top or standing model – this option features two units on a sturdy yet lightweight base. The Standing mobile charging station can charge up to 18 devices through its 10 USB ports and 8 surge-protected outlets.
Customized Cell Phone Charging Kiosks

The chargers have many options: you can choose to utilize open USB ports or a more secure enclosure that includes pre-configured cables built into the units. We can also graphics wrap the entire phone charging station with custom artwork, so your unit can either stand out with your branding or blend in with your décor.